Asian Noodle Salad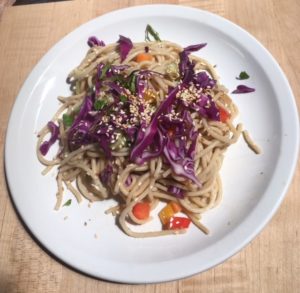 Print This Post
Asian Noodle Salad
This dish from our first cookbook does not take much time to prepare. It can be made ahead and stored in the fridge until about one hour before serving. Great for your next summer potluck.
½ lb brown rice noodles
1 tbsp sesame oil
1 cup finely diced veggies (such as carrots, celery, snow peas, broccoli, cucumber, peppers)
Sauce
2 tbsp tamari (or other good quality soy sauce)
1 tbsp sesame oil
2 tsp rice vinegar
1 tsp minced garlic
1 tsp chili paste (sambal)
2 tbsp stock or water
Garnish
2 tbsp sesame seeds
1 green onion, chopped
Shredded red cabbage
1 tbsp chopped cilantro
Cook noodles according to package directions. Rinse under cold water and place in large bowl. Toss with sesame oil.
Mix sauce ingredients together. Pour over noodles, add veggies and toss to mix well.
Transfer to serving dish and sprinkle with garnish. Serve at room temperature.
Serves 4–6.
Hint: Chili paste (sambal) can be found in Asian grocery sections of stores.
Variation: You can use any long spaghetti-type noodle.
For more recipes, visit www.thirteenmoons.ca
---
---