Rhubarb Strawberry Squares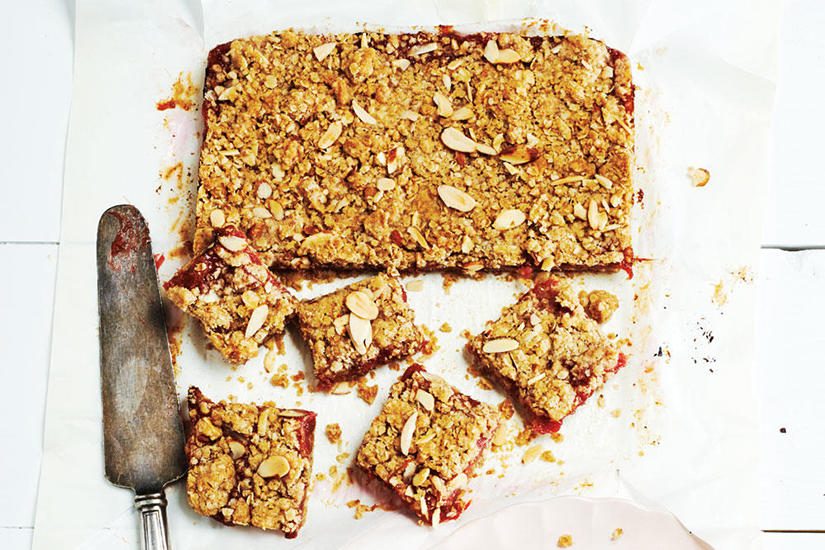 Print This Post
Rhubarb Strawberry Squares
This rhubarb recipe was adapted from one I found online by Irene Fong of the Canadian Living test kitchen.   I reduced sugar amounts, sugar and flour types and replaced  some of the rhubarb with fresh strawberries.  Guests have loved the results. Since rhubarb is still available and local strawberries are in prime season, I thought I'd share it.
Base and Crumble:
1 1/2 cup quick-cooking rolled oats (not instant)*
2/3 cups spelt or gluten free flour
1/2 cup brown or dark cane sugar
1 teaspoon cinnamon
1 pinch salt
2/3 cups cold unsalted butter cubed
3 tablespoons sliced almonds (optional)
*if you only have large flake oats, you can spin them quickly in a blender to break them down in size.
Filling:
4 cups chopped fresh rhubarb
1/2 cup cane sugar
1 teaspoon grated orange zest
1/4 cup orange juice
1 tablespoon  flour
2 cups sliced strawberries
Filling: In large saucepan, bring rhubarb, sugar, orange zest, orange juice and flour to boil. Reduce heat to medium; cook, stirring occasionally, about 20 minutes. Stir in strawberries. Let cool slightly.
Meanwhile, mix together rolled oats, flour, sugar, cinnamon and salt; with fingers or pastry blender, blend in butter until crumbly. Press two-thirds evenly into 9-inch (2.5 L) square cake pan. Bake in 350°F oven until golden brown, about 20 minutes. Let cool in pan on rack for 5 minutes.
Spread filling over base. Toss remaining oat mixture with almonds, if using, and sprinkle to cover filling, press down gently. Bake in 350°F oven until crumble is golden, about 40 minutes. Let cool completely in pan on rack before cutting into squares.
Makes 16 squares.
---
---