Feb
2
Sat
Visioning 2019 with Spirit, Drums, and Horses
Feb 2 @ 9:30 am – Feb 3 @ 3:30 pm
Being offered again due to demand!  We are looking for four brave women who have decided that 2019 is the year where they make sh** happen.
Women ready to invest in their future well being and, ultimately, their life.
Are you a dreamer unclear how to get things moving?
Are you ready to explore what holds you back from loving who you are today and knowing what is possible for you in the future?
Are you longing to connect deeply with nature and hear your heart speak a language you can hear and understand?
This journey together on a new moon weekend begins with an overnight retreat and two full days of self-discovery and co-creation and includes three follow-up  sessions with Adele. Your private phone session and two online groups sessions will ensure that your new found heart wisdom continues to guide you as you open yourself to the flow of what it is you desire.
This special offering and retreat experience is limited to four participants. Will you be one of them?
Here's what one participant of the December retreat said:
Do it! Its is very powerful. I am grateful. It's wonderful to clear energy from one year and set intentions for the next. Drumming, working with horses and doing a vision board were incredible. Thank you Louise and Adele. What an amazing team you two are. Louise you are so nurturing and welcoming. Your meals and snacks are always amazing, decadent and full of love. Your home is cozy and has so many cool things in it.  Adele you are so passionate about horses and appreciate how you share your love of them and their medicine. You are funny, energetic and give so many insights/teachings to us. I am grateful for what you both do and provide for people.
Your investment: $495
A deposit of $165 + hst will secure you spot.  Once that is confirmed, you will receive the registration form and an invoice for the balance. (This is the last time this program will be offered at this discounted price.)
Shared accommodation, meals, two days of workshop sessions, followup sessions, and materials included.
Feb
3
Sun
Creating Your Vision for 2019
Feb 3 @ 10:00 am – 3:00 pm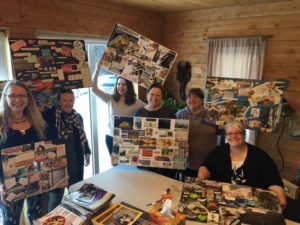 The new moon is a perfect time to set intentions. Join us for this very popular workshop that invites you to  focus on what you want to manifest for yourself in the new year and beyond.
Adele will begin this workshop with a drumming meditation to help you get clear on your word for the year. Explore what goals and intentions you want to set for yourself and create a vision board to represent that as a visual reminder of what you want to achieve.
Lunch and all materials included.
Here's what a recent participant said about making a vision board here:
Thank you both so much for opening your home up to us and engaging us in an amazing activity. The food was amazing and I loved cutting and pasting (with scissors and glue 🙂 love my vision board and can't wait to conquer items on it."
Overnight retreat package that includes a time learning from the horses is also available.