Jun
21
Thu
Summer Solstice Celebration
Jun 21 @ 5:30 pm – 9:30 pm
The summer solstice is a time to celebrate our connection to the Sun and Earth.  A reminder of the bounty is possible from the fire/power within.  And, it teaches us that with patience, abundance follows.
Join us for this semi-annual potluck celebration.
By donation ($20 or PWYC)
Overnight accommodation available.
Jul
28
Sat
Full Moon Dinner & Drumming Circle
Jul 28 @ 5:00 pm – 10:00 pm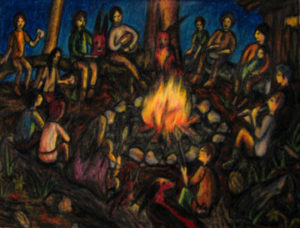 Discover the healing properties of a drumming circle. Throughout history, women have gathered in circles to drum, sing and connect with one another as a community. Thirteen Moons' drumming circles offer an excellent way for women to explore their own personal rhythms while sharing in the spirit, song and safety of a circle with other like-minded women. Anyone can participate regardless of spiritual or musical background.
$70 for all of the above plus dinner, which is served at 5:30 and drumming, which starts at 7pm.  Drums available for $5 extra.  Overnight packages also available.
Reserve your space here with a deposit. Bring $30-$35 cash for drumming.
Mark your calendar for future monthly drumming dates:   August 11 (new moon)