Dec
29
Sat
Visioning 2019 with Spirit, Drums, and Horses – SOLD OUT!
Dec 29 @ 9:30 am – Dec 30 @ 3:30 pm
We are looking for four brave women who have decided that 2019 is the year where they make sh&# happen.
Women ready to invest in their future well being and ultimately their life.
Are you a dreamer unclear how to get things moving?
Are you ready to explore what holds you back from loving who you are today and knowing what is possible for you in the future?
Are you longing to connect deeply with nature and hear your heart speak a language you can hear and understand?
This journey together begins with an overnight retreat and two full days of self-discovery and co-creation and includes three follow-up  sessions with Adele. Your private phone session and two online groups sessions will ensure that your new found heart wisdom continues to guide you as you open yourself to the flow of what it is you desire.
This special offering and retreat experience is limited to four participants. Will you be one of them? The sooner you decide and commit, the more you will save.
Your investment:
$495 with paid registration by December 7th
$595 with paid registration by December 14
$795 after December 15.  Registration closes December 20.
A deposit of $165 + hst will secure you spot. You will then receive a registration form and invoice for the balance.
Shared accommodation, meals, two days of workshop sessions, followup sessions, and materials included.
Jan
5
Sat
Creating Your Vision for 2019 – Only 2 spots available!
Jan 5 @ 10:00 am – 3:00 pm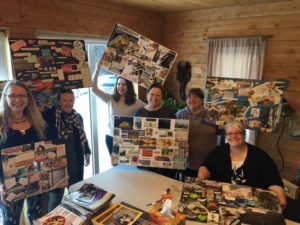 Join us for this very popular workshop that invites you to  focus on what you want to manifest for yourself in the new year and beyond.
Adele will begin this workshop with a drumming meditation to help you get clear on your word for the year. Explore what goals and intentions you want to set for yourself and create a vision board to represent that as a visual reminder of what you want to achieve.
Lunch and all materials included.
Overnight accommodation packages available.
Mar
8
Fri
International Women's Day Conference
Mar 8 @ 8:30 am – 4:30 am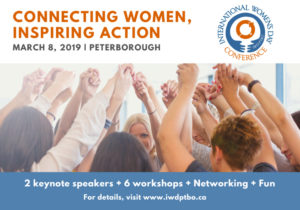 Does a day to focus on how we might collectively and individually bring about positive change in our lives and in our community interest you? Do you long to connect to other like-minded women in an meaningful way? Could you use a dose of inspiration? How about some practical empowerment tools and ideas?  If so, join us for this exceptional day.
Our keynote speakers will move you.  The workshops will allow you to dig a bit deeper. The food and refreshments will nourish and delight you.  You will likely laugh and cry.  You will definitely feel something shift.
Come on your own or bring a friend or colleague. We promise you will walk away feeling more alive.
Get your ticket here.