Feb
22
Fri
Self-Care Retreat
Feb 22 @ 7:00 pm – Feb 24 @ 3:00 pm
This very special heart centred retreat is limited to four women who are looking to focus and commit to their self care needs.
As women we easily put everyone else before what it is we need and want. We accommodate, sacrifice, and go without for others. It is when we go within that we connect with the our little one and begin to help her find her way back to being cared for through our actions in the present.
What to Expect
This retreat will be in part designed by the women who are called to join us. It will include a variety of experiential opportunities for heart, mind, body, and spirit to know growth. We will help shift any old belief and help you grow wiser in your personalized self care plan. You will walk away even more resilient and stronger in knowing what it is you need to be a priority in your life.
Learn to connect with body wisdom releasing beliefs around self care that no longer serve.
Discover simple ways in which you can make time for yourself and fill your vessel.
Develop a simple personal commitment plan to create space for self care in your day to day life.
Learn ways you can care for your body's needs through activity, rest and simple massage techniques that work for you.
You will leave feeling seen, heard, nurtured, renewed and inspired with new found desire to accommodate your needs and make yourself a priority each day.
You will take away useful tools and tips with a self care plan designed by you.
What's Included
This retreat offering includes two nights in shared accommodations (twin or double) with five delicious vegetarian meals and snacks throughout your time with us. Upon arrival Friday you will settle in and simply enjoy BEing in the beautiful sacred space by the fire connecting with the other women with a special intention setting circle.  Saturday and Sunday will include time learning from the horses* and participating in group and individual self-care activities. Each participant will take away a special self care package that will further your ability to give to yourself.
Also included in the package is a series of four 1 hour group "stronger together" calls that will allow you to be supported as you make these changes for ourselves. These calls will be recorded and available to participants. A deposit for the meals and accommodation portion will secure your spot. Balance payable by e-mail transfer ($400) or credit card ($420).
*No horse experience is required. All work with the horses is done on the ground. Activities subject to change due to weather.
This is an alcohol free event. Optional dinner is available on Friday by prior arrangement.
Your Facilitators
Adele has been a Wellness and Lifestyle Practitioner for the past 25 years and has been facilitating experiences with horses as teacher for the past 10 years. She knows first hand time with the horses can help one gain clarity for us humans. Mickey and Noah carry powerful medicine and will assist in the discovery work.
Mar
8
Fri
International Women's Day Conference
Mar 8 @ 8:30 am – 4:30 am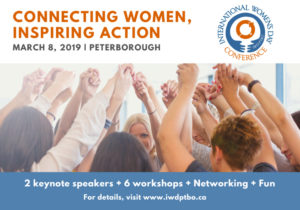 Does a day to focus on how we might collectively and individually bring about positive change in our lives and in our community interest you? Do you long to connect to other like-minded women in an meaningful way? Could you use a dose of inspiration? How about some practical empowerment tools and ideas?  If so, join us for this exceptional day.
Our keynote speakers will move you.  The workshops will allow you to dig a bit deeper. The food and refreshments will nourish and delight you.  You will likely laugh and cry.  You will definitely feel something shift.
Come on your own or bring a friend or colleague. We promise you will walk away feeling more alive.
Get your ticket here.