Nov
30
Sat
Holiday Fashion and Gift Show
Nov 30 @ 1:00 pm – 4:00 pm
A very different Holiday event.
Experience a warm inviting Wellness break from the bustle of the season.
Fabulous fashion made specifically to flatter women with changing bodies.
Gorgeous ornaments, calendars and local delicious maple syrup.
Pick up bundles of fresh greens for your holiday decor and other treasures that will remind you of Thirteen Moons.
Heartwarming tasty samples from Louise Racine's must-have cookbook.
Savour time while mingling and shopping beside a crackling fire.
Admission includes your yummy refreshments and a chance to win a fabulous raffle prize! Cost is $5 with online registration, which entitles you to a second ticket for the draw.
Come early and linger.
The fantastic raffle will be drawn at 3PM. Name drawn must be present to win.
Dec
14
Sat
Visioning 2020 with Spirit, Drums, and Horses
Dec 14 @ 9:30 am – Dec 15 @ 3:30 pm
We have an offering for four brave women who have decided that 2020 is the year where they learn to listen to their hearts and explore what it ask of them.
Who are ready to create a plan to make sh#t happen.
Who are ready to explore what is possible for you in the future.
Who are ready to allow the medicine of nature and the wisdom of horses speak a language you can hear with your heart.
This journey is an overnight retreat and two full days of self-discovery experiences and co-creation. Afterwards, Adele to help ensure that your new found heart wisdom continues to guide you and empower you as you open yourself to the flow of life and all you desire and all that is possible.
This unique and powerful retreat experience is limited to four participants. Will you be one of them? The sooner you decide and commit, the more you will save.
Your investment:
$795 with paid registration by November 9th.
$995 registration deadline November 30th.
A non refundable deposit of $300 will secure your spot.  Etransfer to Adele@incirclewithlife.ca . Upon receipt of your deposit,  you will be sent a registration form with further details to help you prepare for your experience with us.
This unique and powerful retreat includes:
Shared twin accommodations
Delicious vegetarian meals and snacks
Experiential Learning with Mickey and Noah, Adele's rescue horses
Drumming circle experience (no experience needed)
Vision Board creating workshop
Three (30 minute) 1:1 follow up phone or video sessions with Adele
No horse experience, all work done from the ground.
Words from a few happy participants.
"JUST DO IT!! It is very powerful. It's a wonderful to clear energy from one year and set intentions for the next. The drumming, horse work and doing the vision board were incredible.!! Thank you Adele and Louise. I am grateful for what you both do and provide for women." 
"I highly recommend this retreat for anyone looking to start their new year off in a powerful way. Louise and Adele provide a wonderful that lets you explore your true self and create intentions that enliven and inspire you." 
Jan
4
Sat
Creating Your Vision for 2020
Jan 4 @ 10:00 am – 4:00 pm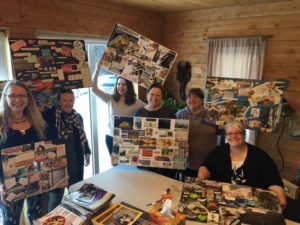 Join us for this very popular workshop that invites you to  focus on what you want to manifest for yourself in the new year and beyond.
Adele will begin this workshop with a drumming meditation to help you get clear on your word for the year. Explore what goals and intentions you want to set for yourself and create a vision board to represent that as a visual reminder of what you want to achieve.
Lunch and all materials included.
Overnight accommodation packages available.