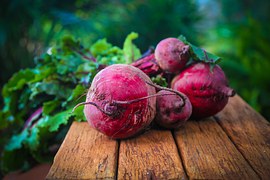 I made this at the last full moon dinner and it was a hit. It might be a good addition to your Thanksgiving weekend menu, especially if you have any vegans around the table.
Print This Post
Beet and Black Lentil Curry
1 tbsp coconut oil
1 medium onion, diced
2 lbs. beets, peeled and diced small
3 cloves garlic, minced
11/2 cups black lentils, rinsed
2 bay leaves
4 cups broth or water
1 14oz can coconut milk
1 inch piece ginger, grated
1 tbsp. grated fresh turmeric or 1 tsp. dry
salt and pepper to taste
In a large saucepan, heat oil over medium heat then add onions and beets.  Saute for a few minutes then stir in lentils and bay leaves.   Add water or broth, bring to boil. Reduce heat to simmer and cover. Cook for 45 minutes or until beets and lentils are tender.  Add rest of ingredients, and continue to simmer then season to taste.